Re: Unknown Print
---
[ Follow Ups ] [ Post Followup ] [ Ukiyo-e Q & A ]
---
Posted by Alec W. (2.25.206.129) on October 24, 2021 at 01:23:37:
In Reply to: Unknown Print posted by Rosa Hollow on October 23, 2021 at 22:41:49: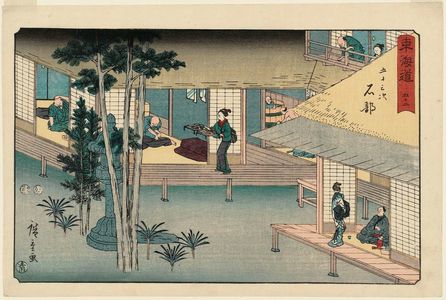 https://data.ukiyo-e.org/mfa/scaled/sc129308.jpg
The design is from Hiroshige's c. 1847-52 Tōkaidō Road series known as the "Reisho Tōkaidō". This design is for Ishibe 石部.
More on the series:
https://www.hiroshige.org.uk/Tokaido_Series/Tokaido_Reisho.htm
Also see this original impression in the Spaulding collection of the MFA Boston:
https://collections.mfa.org/objects/232831
Your impression is a later reprint, as evidenced by the lack of censor seals above the signature at lower left.
-A


---
---