Re: Identifying a print
---
[ Follow Ups ] [ Post Followup ] [ Ukiyo-e Q & A ]
---
Posted by Alec W. (2.25.206.129) on October 29, 2021 at 11:41:01:
In Reply to: Identifying a print posted by Gopa Sabharwal on October 29, 2021 at 09:10:50: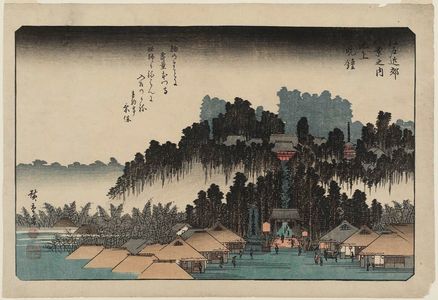 https://data.ukiyo-e.org/mfa/scaled/sc129201.jpg
The design is from a c. 1837-38 Hiroshige series entitled "Edo kinkō hakkei no uchi" 江戸近郊八景之内 ("Eight Views in the Environs of Edo"). This design is "Ikegami no banshō" 池上晩鐘 ("Evening bell at Ikegami").
More info:
https://www.hiroshige.org.uk/Views_Of_Edo/FamousPlacesInEdo.htm
https://collections.mfa.org/objects/232904
https://dl.ndl.go.jp/info:ndljp/pid/1309718?tocOpened=1
Your print appears to be a 20th-century reprint/reproduction.
-A


---
---