Re: Triptych
---
[ Follow Ups ] [ Post Followup ] [ Ukiyo-e Q & A ]
---
Posted by Horst Graebner (178.4.64.239) on October 30, 2021 at 13:51:49:
In Reply to: Triptych posted by Erik Wissing on October 30, 2021 at 10:09:20: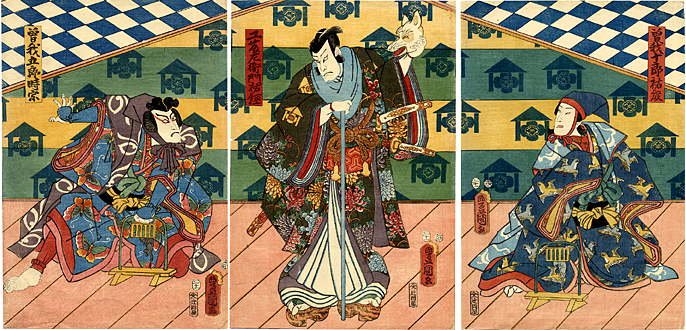 https://data.ukiyo-e.org/uploads/images/91eb199a98ce8c420cffa2e14e92a91e.jpg
Yes, it is the left sheet of a triptych; it is not online. A copy was sold by Japan Print Gallery London in 2002.
The actors and roles (from left) are:
Nakamura Fukusuke I, Kataoka Nizaemon VIII, Sawamura Tosshō II
Soga Gorō Tokimune, Kudo Saemon Suketsune, Soga Jūrō Sukenari
Play: Toshitoku Soga Matsu no shimadai, performed at the Nakamura theater in 1/1857
Compare Waseda 100-1827, 100-1828, and 100-1829
The publisher is Tsujiokaya Bunsuke and date "snake 11" (11/1857).
Although the date on the print is probably wrong.
Soga mono plays were regularly performed as the opening of the theater season in the first month of the year.
Other prints from this play also date to 1/57 (also 2/57 and 3/57 but not 11/57).
It is possible that the date was marked with 巳正 on the design and read as 巳十一 by the block carver.


---
---