Re: Help identifying?
---
[ Follow Ups ] [ Post Followup ] [ Ukiyo-e Q & A ]
---
Posted by Alec W. (2.25.206.215) on November 04, 2021 at 01:19:56:
In Reply to: Help identifying? posted by DavidK on November 03, 2021 at 19:24:40: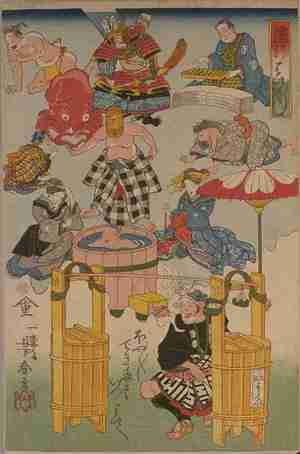 https://data.ukiyo-e.org/uploads/scaled/f4f23749d558ac84f31ca4b05b9825a2.jpg
It's a satirical print by Utagawa Yoshiharu entitled "Ryūkō hai zukushi" 流行はい尽し. I'm afraid I don't know how to translate that; "ryūkō" 流行 is usually "fashionable" in this context, and "zukushi" 尽し (modern form 尽くし) is "all kinds of", but I don't know the sense of "hai". The imagery leads me to think that the subject relates to the currency crisis of the Bakumatsu period.
The date/censor seal is for 1860.6, and the publisher is Jōshūya Jūbei 上州屋重兵衛.
Another impression of this can be found on this Japanese-language page (item #59):
https://www.hi.u-tokyo.ac.jp/personal/yokoyama/nishikie/isin1cvr.htm
-A


---
---