Re: Woodblock
---
[ Follow Ups ] [ Post Followup ] [ Ukiyo-e Q & A ]
---
Posted by Alec W. (2.25.206.215) on November 07, 2021 at 11:45:20:
In Reply to: Woodblock posted by Nikita on November 07, 2021 at 08:24:04: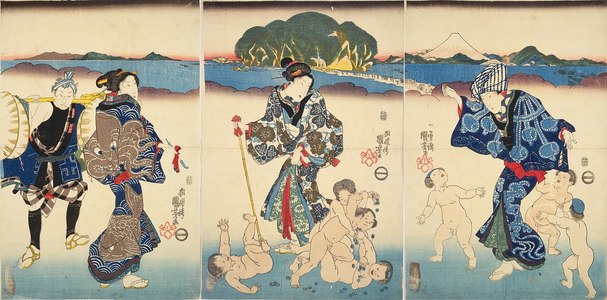 https://data.ukiyo-e.org/uploads/scaled/30f5087c24e438c5680c0fc9ba9b96f1.jpg
The artist is Utagawa Kuniyoshi, here signing as "Chō-ō-rō Kuniyoshi" 朝桜楼 国芳. The presence of a "single nanushi" type censor seal (for Fukatsu Ihei 普勝伊兵衛) dates the design to 1842-1846. The publisher seal belongs to Yamamotoya Heikichi 山本屋平吉.
This is the left sheet of an untitled composition usually referred to as "Enoshima mōde" 江の島詣, "A Visit (or Pilgrimage) to Enoshima".
The National Diet Library has the whole design:
https://dl.ndl.go.jp/info:ndljp/pid/1307773
https://commons.wikimedia.org/wiki/File:NDL-DC_1307773-Utagawa_Kuniyoshi-%E3%80%94%E6%B1%9F%E3%81%AE%E5%B3%B6%E8%A9%A3%E3%80%95-cmb.jpg
As you can see, their impression bears a different publisher seal. Marks catalogs this seal (08-042) as belonging to an unknown publisher (dubbed "Maru-Ichi") known only from this design. Presumably one publisher sold the blocks to the other, but I don't know which direction that transaction occurred in.
-A


---
---