Re: Another Ehon cover
---
[ Follow Ups ] [ Post Followup ] [ Ukiyo-e Q & A ]
---
Posted by Alec W. (2.25.206.215) on November 08, 2021 at 00:17:24:
In Reply to: Another Ehon cover posted by Rick Wilk on November 07, 2021 at 22:54:58: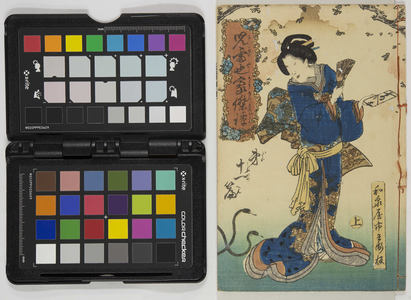 https://data.ukiyo-e.org/uploads/scaled/9b7a9577e2339d106aae88c2fad52083.jpg
This is from "Jiraiya gōketsu monogatari" 児雷也豪傑譚, published by Izumiya Ichibei 和泉屋市兵衛 from 1839-1868.
This fascicle can be found here:
https://www.dh-jac.net/db1/books/results-thum.php?f1=hayBK03-0561-09-01&f12=1&lang=en
Much more can be found here, though the
This is volume 11, first fascicle. I see that the title page bears "double nanushi" censor seals, dating it to 1846-1852.
Here's a full (?) set, unfortunately missing the covers:
https://www.wul.waseda.ac.jp/kotenseki/html/he13/he13_03878/index.html
Here's a partial set with covers (but missing volume 11):
https://www.wul.waseda.ac.jp/kotenseki/html/he13/he13_03811/index.html
In terms of how to find these, all I can say is that I transcribe what I can, do a general internet search with that, see what results get me closer, and repeat. More art than science for sure!
-A


---
---