Re: Mt Fuji
---
[ Follow Ups ] [ Post Followup ] [ Ukiyo-e Q & A ]
---
Posted by Alec W. (2.25.206.215) on November 08, 2021 at 10:22:55:
In Reply to: Mt Fuji posted by james ceisel on November 08, 2021 at 05:44:33: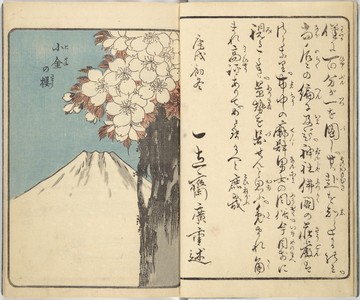 https://data.ukiyo-e.org/uploads/scaled/501f2d1bb444e8c5ce2b10361100effe.jpg
The design appears in Hiroshige's "Ehon Edo miyage" 絵本江戸土産 ("Picture Book of the Souvenirs of Edo"), volume 4 ("North").
Have a look at:
https://www.hiroshige.org.uk/Illustrated_Books/SouvenirsOfEdo.htm
I notice that your impression is clearly from a different key block than the one on the above site. To my eye, it looks rather closer to the one at the Met:
https://www.metmuseum.org/art/collection/search/78613
I don't have any particular information about the publication history of these books.
-A


---
---