Re: another unknown diptych
---
[ Follow Ups ] [ Post Followup ] [ Ukiyo-e Q & A ]
---
Posted by Alec W. (2.27.33.88) on December 27, 2021 at 20:18:05:
In Reply to: another unknown diptych posted by Francis on December 27, 2021 at 19:00:37: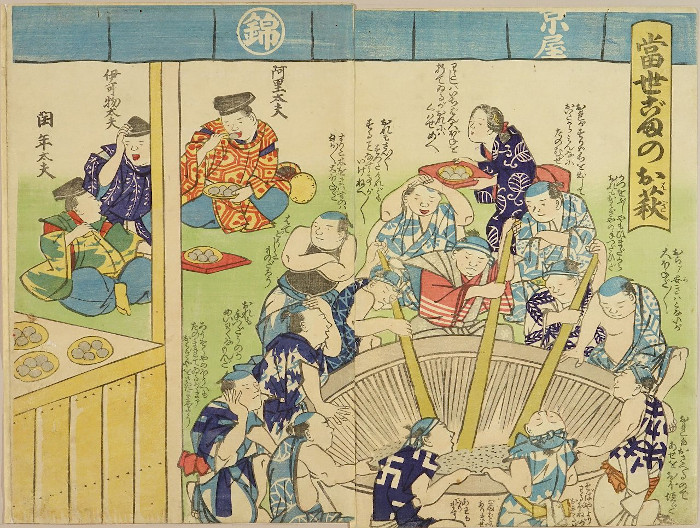 https://data.ukiyo-e.org/uploads/images/a607a25a1af95e705eafde5b0d098a32.jpg
Title: "Tōsei goma no ohagi" 当世ごまのおはぎ
The Historiographical Institute also has this one, and does indeed connect it to the Boshin War. They assign a date of 1868, and appear to associate the figures with the "usual suspect" domains (Satsuma, Chōshū, etc.) as well as to the shōgun, Tokugawa Yoshinobu, and his "official" wife, Tenshō-in.
The National Library of Australia has it catalogued, and they offer a small but helpful scrap of interpretation:
"Japanese print shows people grinding sesame seeds into sesame paste. In Japanese, it means flattering people at a higher level."
https://catalogue.nla.gov.au/Record/4595399
Other links:
https://www.wul.waseda.ac.jp/kotenseki/html/chi05/chi05_03981_0002/index.html
https://dl.ndl.go.jp/info:ndljp/pid/1310792?tocOpened=1
https://www.harashobo.com/english/ukiyoe_detail.php?print_id=27756
I don't know where you keep digging these up, but they're lots of fun!
Best,
-A



---
---