Re: Japanese Print
---
[ Follow Ups ] [ Post Followup ] [ Ukiyo-e Q & A ]
---
Posted by Alec W. (2.25.206.218) on January 01, 2022 at 00:44:44:
In Reply to: Japanese Print posted by Jerry Damerow on December 31, 2021 at 22:26:10: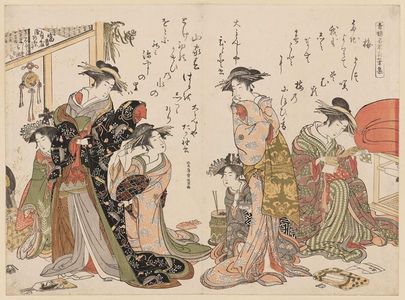 https://data.ukiyo-e.org/mfa/scaled/sc205381.jpg
It's an adaptation of a design from an album entitled "Yoshiwara keisei shin bijin awase jihitsu kagami" 吉原傾城新美人合自筆鏡, designed by Kitao Masanobu (aka Santō Kyōden) and published in 1784.
MFA Boston has the whole album; here's the design in question:
https://collections.mfa.org/objects/218228
The text at the upper right is a sort of loose rendition of the album title, reading "Seirō meikun jihitsu-shū" 青楼名君自筆集.
I take this to be a 20th-century production.
-A


---
---