Re: Beijing Hiroshige Search
---
[ Follow Ups ] [ Post Followup ] [ Ukiyo-e Q & A ]
---
Posted by Alec W. (2.27.33.50) on January 12, 2022 at 21:24:46:
In Reply to: Beijing Hiroshige Search posted by TeeJay on January 12, 2022 at 20:46:31: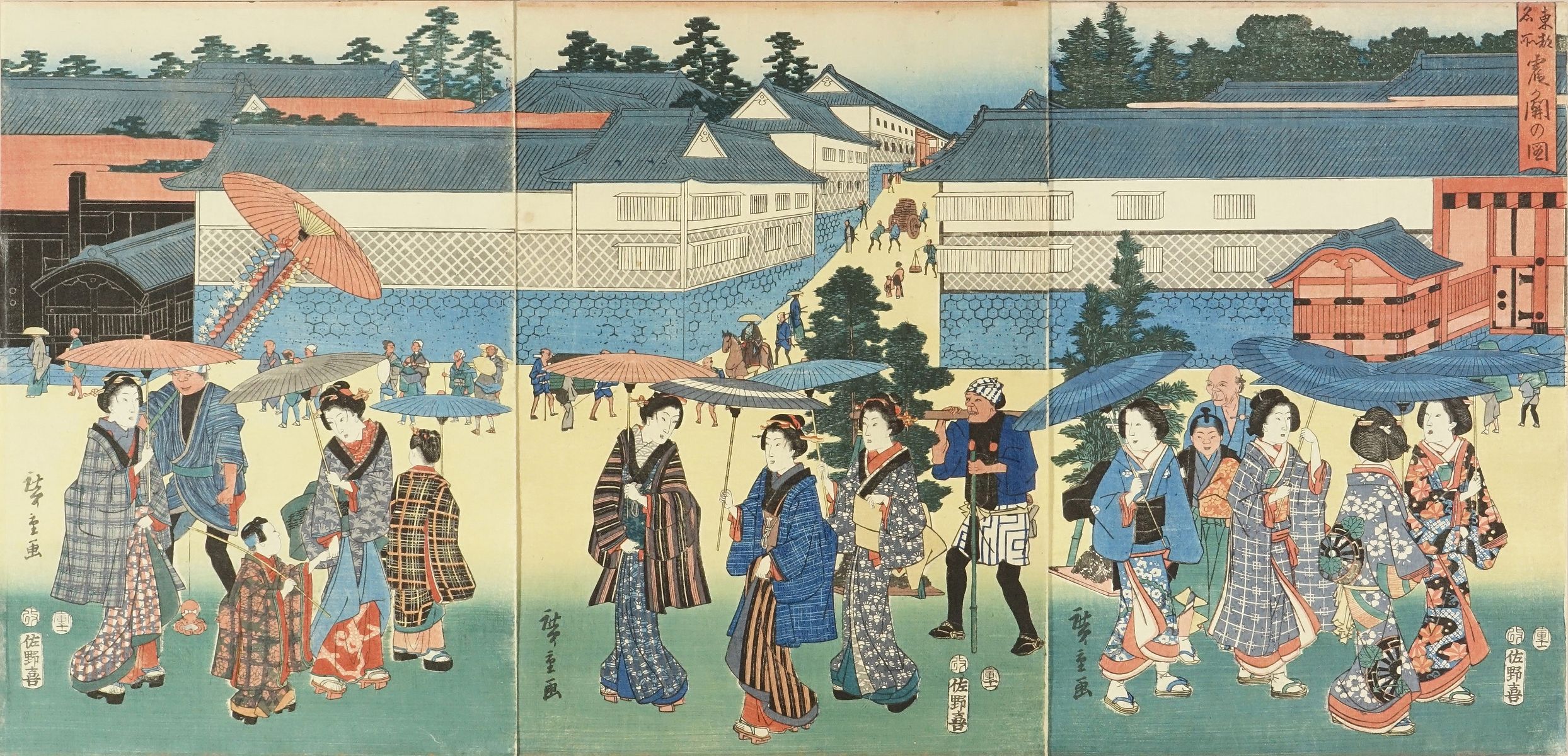 https://data.ukiyo-e.org/uploads/images/05b8dd238f8f7491bee6e839e836d2d5.jpg
It's the right sheet of a triptych design entitled "Tōto meisho: Kasumigaseki no zu" 東都名所 霞ヶ関の図, originally published in 1854 by Sanoya Kihei 佐野屋喜兵衛. Some impressions:
https://www.yamada-shoten.com/onlinestore/detail.php?item_id=34672
https://www.harashobo.com/ukiyoe/ukiyoe_detail.php?print_id=28859
http://museum.city.fukuoka.jp/archives/leaflet/274/index02.html
Your impression bears a different publisher seal, one belonging to Masudaya Ginjirō 増田屋銀次郎. According to "Publishers of Japanese Woodblock Prints: A Compendium" by Andreas Marks, this seal was used around 1868. That fact, combined with the slightly ragged appearance of the keyblock impression and the rather intense colors, leads me to suppose that Sanoya Kihei sold the original blocks to Masudaya Ginjirō, who issued this later edition around the beginning of Meiji.
-A


---
---