Re: Museum catalogue II
---
[ Follow Ups ] [ Post Followup ] [ Ukiyo-e Q & A ]
---
Posted by Alec W. (2.25.230.145) on January 25, 2022 at 11:45:34:
In Reply to: Museum catalogue II posted by Gerard de Kamper on January 25, 2022 at 07:48:13: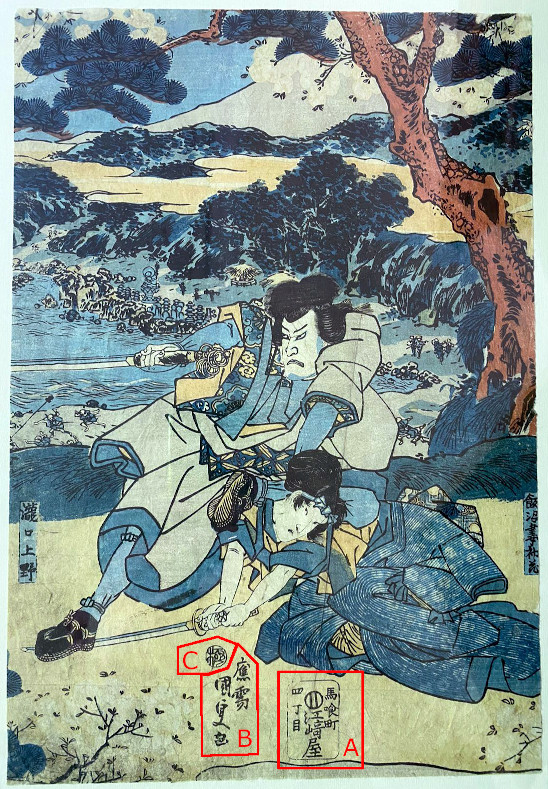 https://data.ukiyo-e.org/uploads/images/96415b07879c0d6b7a0264c35dc2aded.jpg
Inscription (A) is a publisher seal, belonging to Edo-based Ezakiya Tatsuzō 江崎屋辰蔵. According to "Publishers of Japanese Woodblock Prints: A Compendium" by Andreas Marks, this seal was used in 1833. For a free online guide to publisher seals, see:
http://www.printsofjapan.com/Publishers.htm
Inscription (B) is the signature, here belonging to Utagawa Kunisada I. It reads "ōju Kunisada ga" 応需 国貞画, something like "by request, drawn by Kunisada". For more information on Kunisada's signatures, see this page:
http://kunisada.de/Liste/kunisada-signature-seal.html
Inscription (C) is a censor seal, reading "kiwame" 極. Later censor seal arrangements often included date information, but this type of dateless seal was used from 1792 to 1842. There used to be a free online guide to these seals which dropped off the web a couple of years ago, but it is still available on the Internet Archive:
https://web.archive.org/web/20190630052916/http://japanesepotterymarks.info:80/censor_seals.php
Also, the above-mentioned book by Andreas Marks contains an excellent reference to censor seals.
Another book documenting publisher and censor seals is the The Hotei Encyclopedia of Japanese Woodblock Prints, which also includes a set of artist signature facsimiles.
For a free online collection of artist signatures, I humbly refer you to my own website:
https://www.ukiyoesig.net/
This database has become quite exhaustive, and can be overwhelming if you're just getting started, so I recommend using one of the "Ukiyo-e.org Ranking" filters to cull things down to just the most common/important artists.
Getting back to your print, it is the center sheet from a triptych design, depicting a scene from the revenge drama "Hakone Reigen Izari no Adauchi" 箱根霊験躄仇討. The figure at left is labeled "Takiguchi Kōzuke" 瀧口上野. See the full design here:
https://bunka.nii.ac.jp/heritages/detail/438696
For more on this play, see:
https://www.kabuki21.com/izari_no_adauchi.php
-A


---
---