Re: Kuchi-e
---
[ Follow Ups ] [ Post Followup ] [ Ukiyo-e Q & A ]
---
Posted by Alec W. (2.25.206.192) on January 29, 2022 at 16:42:35:
In Reply to: Kuchi-e posted by Serge A. on January 29, 2022 at 15:50:52: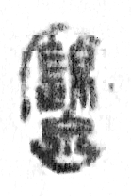 https://data.ukiyo-e.org/uploads/images/0d51046bfce592d284f3ec46345936de.jpg
The signature looks to me like "ōju Kinsen e" 応需 錦泉 絵, belonging to Suzuki Kinsen 鈴木錦泉. Also see the attached image for an isolated/enhanced view of the seal -- it looks like a Kinsen seal to me.
Kinsen was a prolific kuchi-e artist, and Yoshio Katō's site lists dozens of books containing his illustrations and with scans available (mostly at the National Diet Library):
https://www.ne.jp/asahi/kato/yoshio/aiueo-zenesi/ki-zenesi/kinsen-suzuki.html
I think there's a good chance you could find the source, if you want to spend the time and effort digging through all of those!
-A


---
---