Re: Woodblock
---
[ Follow Ups ] [ Post Followup ] [ Ukiyo-e Q & A ]
---
Posted by Alec W. (2.25.206.207) on January 31, 2022 at 20:06:40:
In Reply to: Woodblock posted by Nikita on January 31, 2022 at 10:26:14: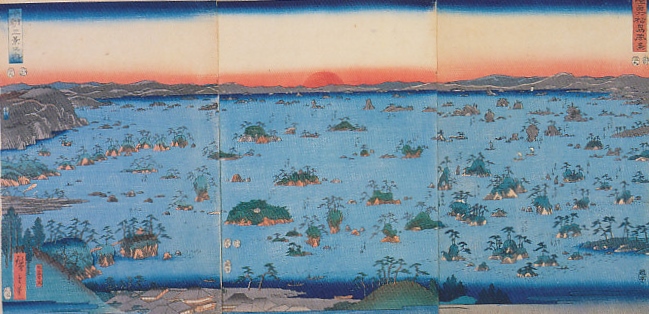 https://data.ukiyo-e.org/uploads/images/edf892884d8cdd630a6579eac5af96a7.jpg
This is the left sheet of a triptych design by Hiroshige I, entitled "Mutsu: Matsushima fūkei" 陸奥 松島風景 ("View of Matsushima in Mutsu Province"). It belongs to a series entitled "Honchō sankei no uchi" 本朝三景之内 ("Three famous views of places in our country" or something similar). This design bears a date/censor seal for 1856, ninth month.
The series seems to poorly documented, and I can't find many images from it, but a small image of the full design can be found on this page:
http://izucul.cocolog-nifty.com/balance/2021/06/post-7a81ee.html
MFA Boston has a single sheet of a different design from the series, this one showing views of Ōmi:
https://collections.mfa.org/objects/217912
Relatedly, Hiroshige did another Mutsu/Matsushima design in his "Famous Places in the Sixty-odd Provinces" series:
https://collections.mfa.org/objects/217529
-A


---
---