Re: any idea
---
[ Follow Ups ] [ Post Followup ] [ Ukiyo-e Q & A ]
---
Posted by Alec W. (2.25.206.207) on February 03, 2022 at 01:54:43:
In Reply to: any idea posted by Shevawn on February 02, 2022 at 21:58:33: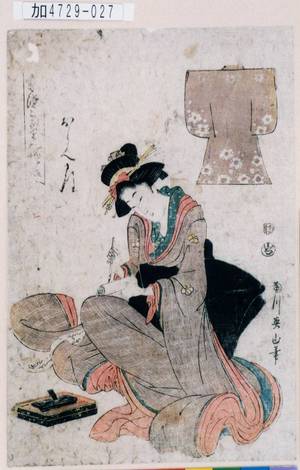 https://data.ukiyo-e.org/metro/scaled/KA4729-027.jpg
This appears to be a reprint of a design by Kikukawa Eizan 菊川英山. The design comes from a series entitled "Kyōzome Kōrin moyō" 京染こうりん模様, and was originally published c. 1814 by Iwatoya Kisaburō 岩戸屋喜三郎. Your print spells this series title a little differently, 京染光琳模様, suggesting a connection to the artist Ogata Kōrin 尾形光琳. Kōrin was, among his many artistic talents, a textile designer, so I think the series concept is pairing textile designs by Kōrin with beautiful women.
The only image from the series I have found is this one:
https://archive.library.metro.tokyo.lg.jp/da/detail?tilcod=0000000003-00019848
-A


---
---