Re: Kunisada Print
---
[ Follow Ups ] [ Post Followup ] [ Ukiyo-e Q & A ]
---
Posted by Horst Graebner (88.69.159.75) on February 17, 2022 at 19:51:25:
In Reply to: Kunisada Print posted by Megan on February 17, 2022 at 17:45:24: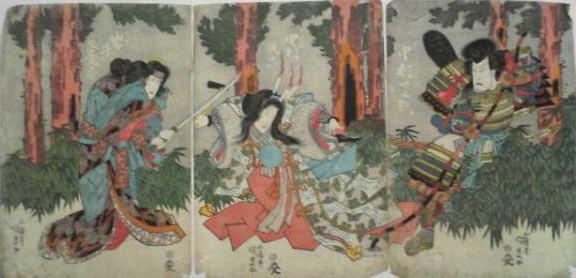 https://data.ukiyo-e.org/uploads/images/dc992cf346844ebb61d4b162b14eeb2c.jpg
It is the center sheet of a kabuki triptych. The photo I have is too bad to read the other role names.
The actors (from left) are Iwai Kumesaburō II, Nakamura Karoku I and Nakamura Shikan II.
The role name of the center sheet is "Tatsuyasha hime" (Princess Tatsuyasha) (辰夜叉姫).
The play is unidentified; the publisher is Yamamotoya Heikichi and date c. 1830.


---
---