Re: Woodblock ad product id
---
[ Follow Ups ] [ Post Followup ] [ Ukiyo-e Q & A ]
---
Posted by Alec W. (2.27.33.104) on February 19, 2022 at 18:01:58:
In Reply to: Woodblock ad product id posted by Judy Hahn on February 16, 2022 at 23:00:24: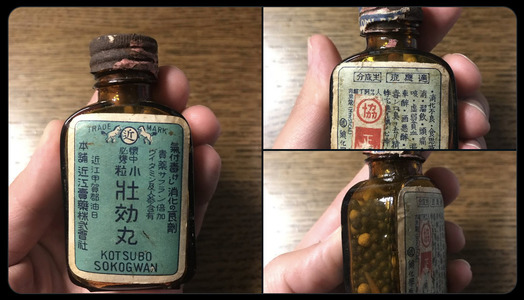 https://data.ukiyo-e.org/uploads/scaled/ff59076a04c6d73dcea44c71b0c17562.jpg
I've been picking at this off and on since you posted, and while I only have fragments of findings, I figured I would share what I've got...
懐中心携 壮効丸 -- "Kaichū shinkei? sōkō-maru?" (readings very uncertain)
https://books-mikke.ocnk.net/product/2512
犀角 テリアカ -- "Saikaku teriaka" (Rhinoceros horn theriac)
改良風楽 ヘブリン -- "Kairyō? fūraku? heburin"
https://www.santen.co.jp/ja/about/outline/history.jsp
Next, the Kitama Pharma. Association has a little museum of old ads, including this exact print and a number of similar ones:
https://www.tpa-kitatama.jp/museum/museum_100.html
Finally, see attached image from a T w i t t e r thread I couldn't include because it has the letter "x" three times in a row in the URL, . Anyway, search by the Japanese text and you'll find it.
-A


---
---