Re: Unknown Surimono
---
[ Follow Ups ] [ Post Followup ] [ Ukiyo-e Q & A ]
---
Posted by Alec W. (2.25.230.238) on February 28, 2022 at 14:34:24:
In Reply to: Unknown Surimono posted by Andreas on February 28, 2022 at 13:56:07: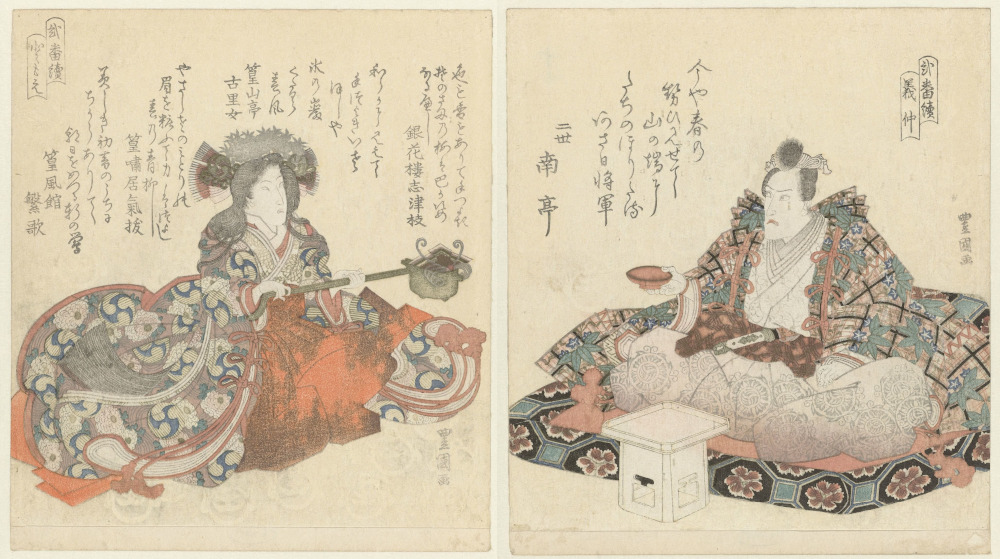 https://data.ukiyo-e.org/uploads/images/559f7fe5096379d6d608da5e2e5e40bc.jpg
Yes, it is by Toyokuni I. There is an impression of this in the Rijksmuseum, RP-P-1958-484:
http://hdl.handle.net/10934/RM0001.COLLECT.46088
It is also discussed at some length in Forrer's "Surimono in the Rijksmuseum Amsterdam", along with RP-P-1958-483 -- the two designs are reckoned as a diptych by Forrer. Forrer identifies this design as Segawa Kikunojō V as Tomoe Gozen, and the companion design as Ichikawa Danjūrō VII as Minamoto no Yoshinaka. Also per Forrer, the overall design may possibly be associated with an 1823.11 staging of "Kaeri Kiso kiku no hitomure" at the Nakamura, or it may be better understood as a depiction of an imaginary performance.
-A


---
---