Re: Kunikazu, part of Triptych
---
[ Follow Ups ] [ Post Followup ] [ Ukiyo-e Q & A ]
---
Posted by Alec W. (2.25.230.239) on April 20, 2022 at 01:20:22:
In Reply to: Kunikazu, part of Triptych posted by Rick Wilk on April 19, 2022 at 23:35:38: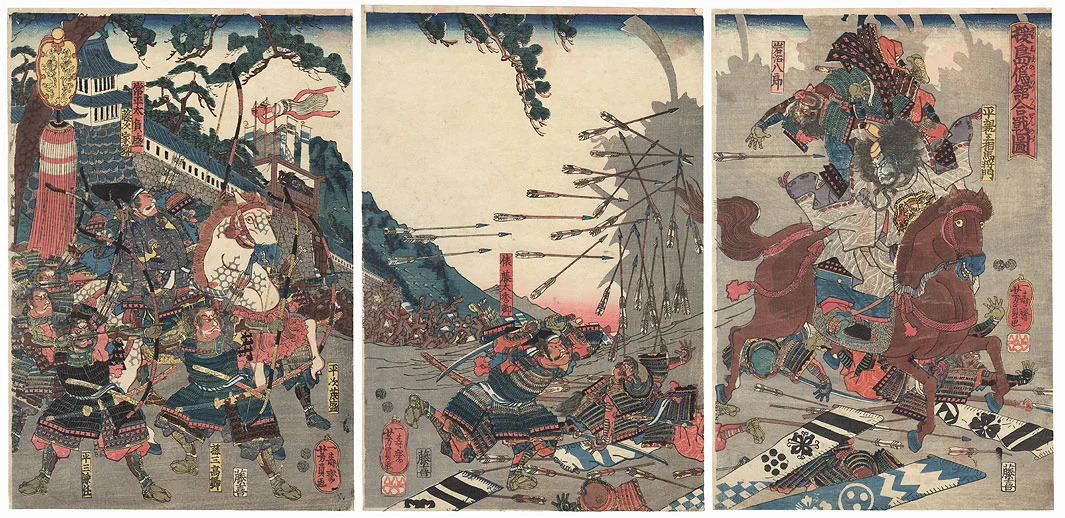 https://data.ukiyo-e.org/uploads/images/68d8fdf0de493cee6f60549e6ef61287.jpg
The title appears to be 援島偽舘合戦図 -- I am unsure how to read or translate this.
The scene shows Taira no Masakado in battle, here labeled "Taira shin'nō Sōma Masakado" 平親王相馬将門.
See:
https://fortezzanascosta.wordpress.com/2019/05/12/illustri-sconosciuti-taira-masakado-3-3-i-vincitori-e-gli-immortali/
and
https://www.reddit.com/r/ghostoftsushima/comments/i0aumy/the_spirit_of_yarikawas_vengeance_quest_inspired/
The suggestion of the linked articles appears to be that Masakado is assisted in this battle by a spectral army. Based on this, I'm guessing this scene is of the Tengyō no Ran 天慶の乱 -- the English-language wikipedia article on this conflict notes the following:
"One of the legends created about the conflict described how Masakado, fearing Hidesato's archery skills, employed doppelganger bodyguards to protect himself."
So perhaps in this version Masakado employs not regular human bodyguards, but rather ghosts to protect him?
The publisher seal is catalogued by Marks as 25-453, reading "Fujiki" 藤喜 and belonging to an unknown Edo publisher operating around 1850.
-A


---
---