Re: Baffled
---
[ Follow Ups ] [ Post Followup ] [ Ukiyo-e Q & A ]
---
Posted by Alec W. (2.25.230.234) on May 04, 2022 at 23:24:22:
In Reply to: Baffled posted by Rick Wilk on May 04, 2022 at 21:36:32: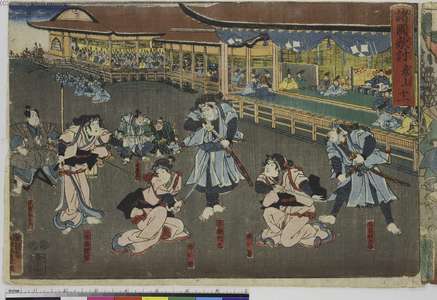 https://data.ukiyo-e.org/uploads/scaled/fd93996443cf6f80e45733b048edfdbe.jpg
Yes, I think you have the signature exactly right. The design is number 11, "Hikosan" 彦山, from the series "Shokoku katakiuchi" 諸国敵討 [諸國歒討] ("Vengeance in Various Provinces").
Here's another impression:
https://www.dh-jac.net/db/nishikie/MMS351_14/portal/
MFA Boston has a different design from the series:
https://collections.mfa.org/objects/190715
Marks dates the series to 1851.
I take the scene to be from "Hikosan gongen chikai no sukedachi" 彦山権現誓助剣.
-A


---
---