Yukinobu - unrecorded Edo artist during
---
[ Follow Ups ] [ Post Followup ] [ Ukiyo-e Q & A ]
---
Posted by Guy Pepermans (84.197.53.216) on May 13, 2022 at 10:42:11: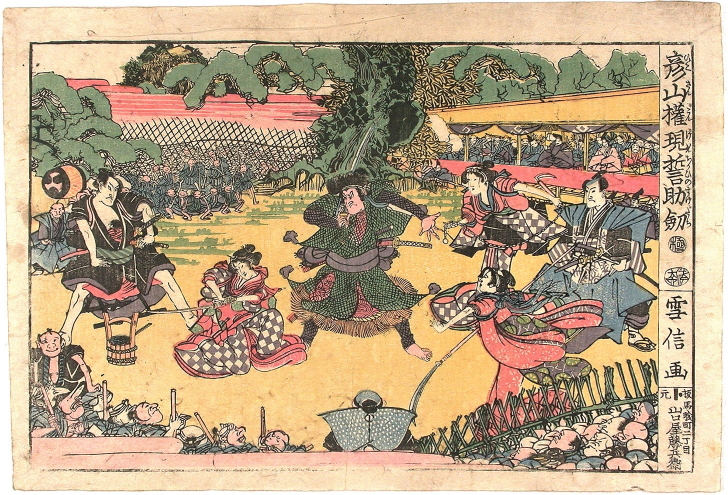 https://data.ukiyo-e.org/uploads/images/f7a2395573fdea8b0d0ef96eb2d8d226.jpg
Horizontal oban print signed 'Yukinobu ga' (雪信画), published c.1811-14 by Yamaguchia T˘bei, bearing a 'kiwame' and a 'gy˘ji' (Hamamatsuya K˘suke) censor seal. Titled 'Hikosan gongen chikai no sukedachi' (彦山権現誓助剣), the famous kabuki play depicted in a typical outdoor setting. The crowd seem to wearing masks; two spectators in the lower left corner are wearing 'tengu' masks.
Yukinobu is an unrecorded artist working in Edo and not to be confused with the Osaka artist Yanagawa Yukinobu. I have still no clue who this artist might be. Eventually, the name 'Yukinobu' could have been an alias for a known ukiyo-e artist, working in Edo at that time.
See also my old post from 2003:
http://www.ukiyo-e.se/archive/messages/5572.html and Daniel Mckee's reply: http://www.ukiyo-e.se/archive/messages/5573.html
and aso
https://www.ne.jp/asahi/kato/yoshio/aiueo-zenesi/yu-zenesi/yukinobu.html
Guy.



---
---