Re: unknown artist
---
[ Follow Ups ] [ Post Followup ] [ Ukiyo-e Q & A ]
---
Posted by Alec W. (2.25.206.221) on June 01, 2022 at 10:42:30:
In Reply to: unknown artist posted by Francis on June 01, 2022 at 08:35:54: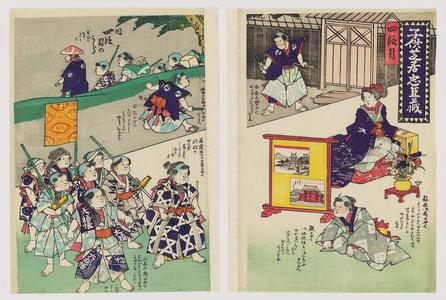 https://data.ukiyo-e.org/uploads/scaled/25f0c12eccefa54e0215ed8ce1988ea1.jpg
It's the right half of a Boshin sensō-e, entitled "Kodomo shibai Chūshingura: yodanme" 子供芝居忠臣蔵 : 四段目 -- the fourth act of a children's performance of "Chūshingura". As with most designs of the type, it's unsigned.
Other impressions:
https://collections.mfa.org/objects/476027
http://ukiyoe.univie.ac.at/detail.asp?docid=1423&lang=e
https://www.wul.waseda.ac.jp/kotenseki/html/chi05/chi05_03981_0017/index.html
https://www.dh-jac.net/db/nishikie/AkoCH-S0002-01/ako/
https://www.info.city.tsu.mie.jp/www/contents/1471931568164/simple/kirokusyuu.pdf
If I understand the explanation in the PDF at this last link, the design represents the surrender of Edo Castle by way of the fourth act of Chūshingura, and shows Tokugawa Yoshinobu departing at the upper left, and soldiers from Tsu and Wakayama domains among imperial forces at lower left.
-A


---
---