Re: Information about a woodcut
---
[ Follow Ups ] [ Post Followup ] [ Ukiyo-e Q & A ]
---
Posted by Alec W. (2.25.206.221) on June 07, 2022 at 13:32:06:
In Reply to: Information about a woodcut posted by Jess on June 06, 2022 at 22:26:06: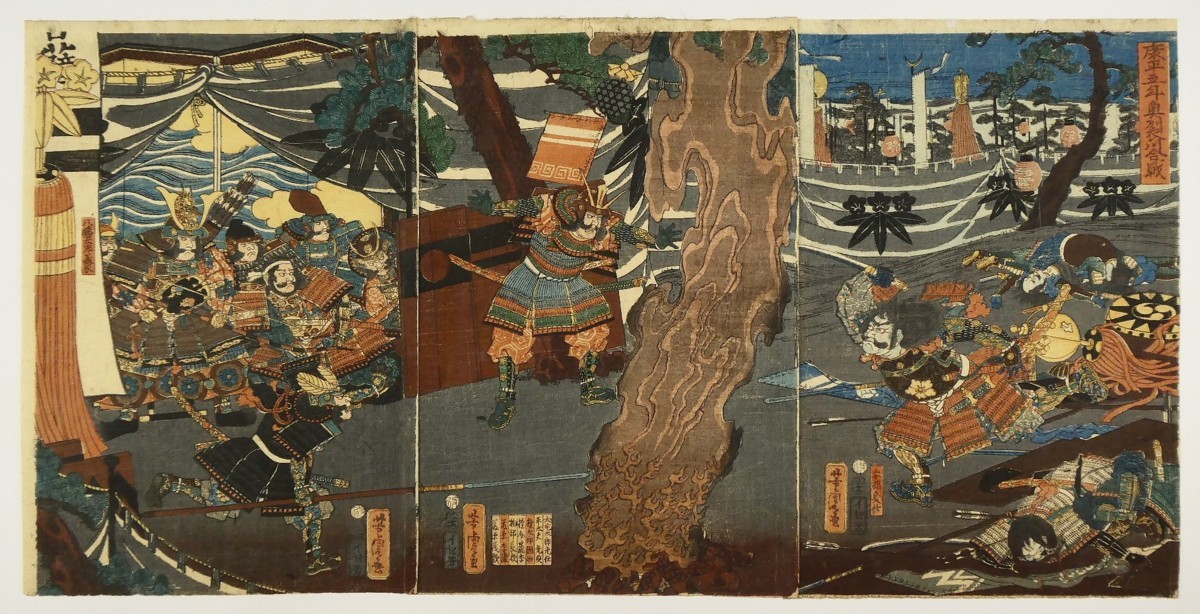 https://data.ukiyo-e.org/uploads/images/2113cc39c4dc7acd44c898c6fdc23f11.jpg
It's the left sheet of a triptych design by Utagawa Yoshitora 歌川芳虎, entitled "Kōhei gonen Ōshū Koromogawa gassen" 康平五年奥州衣川合戦 ("The Battle of Koromo River in Mutsu Province in the Year 1062").
The labeled figure is Minamoto no Yoshiie, here identified as "Hachimantarō Yoshiie" 八幡太郎義家.
The full design:
https://www.yamada-shoten.com/onlinestore/detail.php?item_id=62588
The date seal is "dragon 11" for 1856, 11th month.
The Yamada-shoten impression bears a seal (Marks 25-013) reading "Iseyoshi", belonging to a publisher known only by that seal. Your print appears to bear a different seal, though too little of it is visible for me to identify it.
Here's a sheet from another crÍped version like yours:
https://www.museunacional.cat/en/colleccio/minamoto-no-yoshiie/utagawa-yoshitora/002046-g
This one bears a publisher seal ending in "tatsu" 辰, though again I can't identify it.
-A


---
---