Re: Onoe Kikugoro V shini-e
---
[ Follow Ups ] [ Post Followup ] [ Ukiyo-e Q & A ]
---
Posted by manuD (78.220.151.197) on June 13, 2022 at 13:37:00:
In Reply to: Onoe Kikugoro V shini-e posted by Tom MUsco on June 12, 2022 at 17:55:34: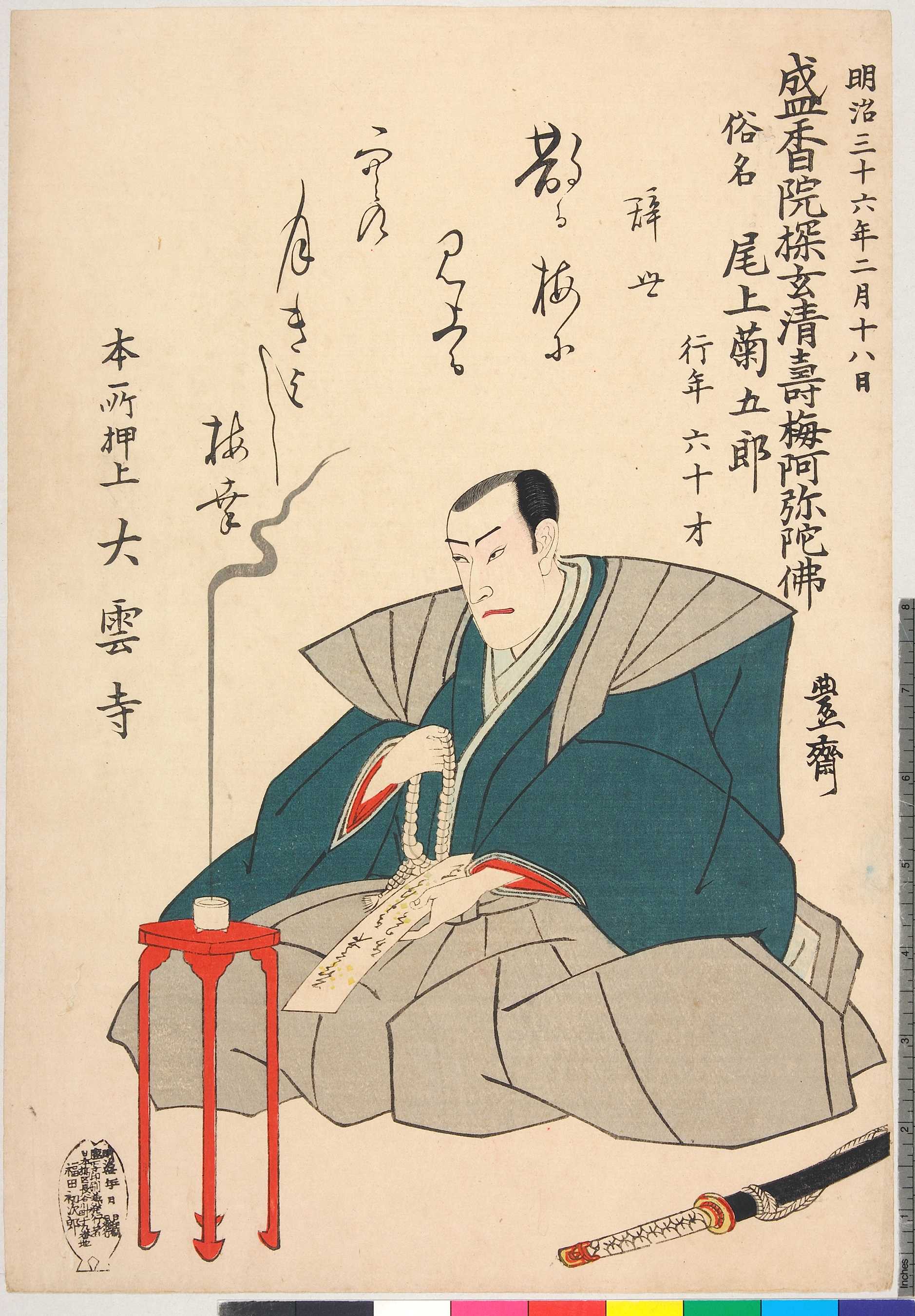 https://data.ukiyo-e.org/ritsumei/images/shiUY0126.jpg
The onnagata, lantern and chrysanthemum perhaps refer to a play in which Kikugoro acted. The only such role that I know of is Oiwa (お岩).
from left to right, what I could read :
明治三十六年二月十八日 Meiji 36, 2d month, 18th day
盛香院探玄清夀梅弥陀佛 ..... Amitabha Buddha
行年六十拾歳 age of death 60 years old
The text in cursive kanji above Kikugoro perhaps refers to what I believe is the play featured here.
俗名尾上菊五郎 common name Onoe Kikugoro
(real name) 寺嶋清 Terashima Kiyoshi
本所押上 大雲寺 Honjo Oshiage Daiunji [temple where he was buried]
艸舟 Sōshū
In the left margin
Meiji 36, 2d month
address of publisher
publisher : 井上吉次郎 Inoue Kichijiro
There is an other shini-e of the actor, with roughly the same text, signed Toyosai and published by Fukuda Hatsujirō



---
---