Re: Chuban aizuri-e of snow scene
---
[ Follow Ups ] [ Post Followup ] [ Ukiyo-e Q & A ]
---
Posted by Alec W. (90.253.18.156) on July 08, 2022 at 19:18:48:
In Reply to: Re: Chuban aizuri-e of snow scene posted by Jim Spencer on July 08, 2022 at 18:39:58: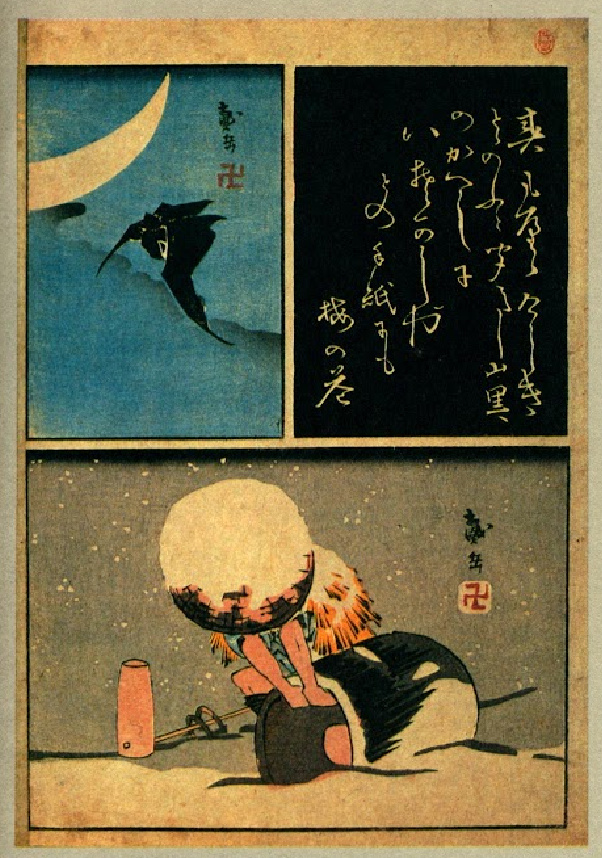 https://data.ukiyo-e.org/uploads/images/dc33db3aefe6b70a1f339fcd371aaf0c.jpg
Ah, much better!
The signature reads "Taigaku" 戴岳. The artist was a student of Taito II, and like his teacher used the gō "Hokusen" 北泉.
Taigaku designed a few surimono around the end of Bunka, like this one:
https://www.metmuseum.org/art/collection/search/54136
Taigaku's work was also featured in a harimaze series combining calligraphy with images; MFA Boston has some bits of this series, and see also the attached image:
https://collections.mfa.org/advancedsearch/Objects/peopleSearch%3ATaigaku
My hunch is that your print was cut from another sheet in this series -- the size is right for it to be a "half-sheet" design, like this one:
https://collections.mfa.org/objects/177947/
-A


---
---