Re: Unknown artist
---
[ Follow Ups ] [ Post Followup ] [ Ukiyo-e Q & A ]
---
Posted by Alec W. (90.253.18.156) on July 12, 2022 at 00:24:11:
In Reply to: Unknown artist posted by Yasmin K on July 11, 2022 at 23:37:46: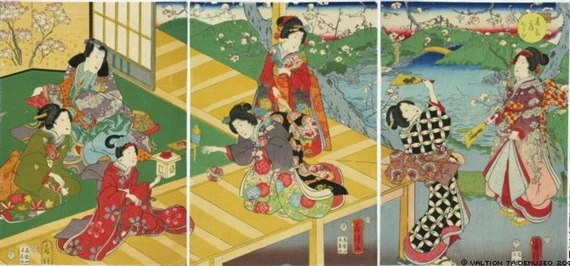 https://data.ukiyo-e.org/uploads/images/15f42b3ad110bdfc8eaf5fe00c84267a.jpg
The two images you have posted are the left and center sheets of an 1854 Genji triptych, designed by Utagawa Fusatane 歌川房種 and published by Kiya Sōjirō 木屋宗次郎.
I haven't found a great image of the full design, but here's a small one attached.
Also, here's a pretty good image of the right sheet:
https://ukiyo-e.org/image/artelino/33611g1
I believe the title is "Shunshoku niwa asobi" 春色庭あそび, perhaps something like "Spring colors: enjoyments in the garden".
-A


---
---