Re: Utamaro?
---
[ Follow Ups ] [ Post Followup ] [ Ukiyo-e Q & A ]
---
Posted by Alec W. (2.25.175.224) on September 19, 2022 at 18:59:44:
In Reply to: Utamaro? posted by Preben on September 07, 2022 at 10:56:03: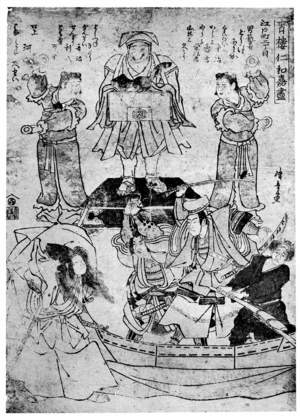 https://data.ukiyo-e.org/uploads/scaled/ae9c37885c832e545718025ffdc48257.jpg
This is a hard one!
The signature is certainly "Utamaro hitsu" 哥麿筆, but as you note that doesn't help us know whether it's Utamaro I or II.
There is a publisher seal (Marks 05-001) for Yamaguchiya Chūsuke, so I think it's clear this was produced as a sheet print, not part of a book. I agree it must have been part of a multi-sheet composition of some sort.
The title appears to start with "Niwaka" 仁和嘉, as in the annual festival in the Yoshiwara. I think the last kanji is 組? Maybe "仁和嘉さいx組"?
The theme seems odd given the title -- most designs with "niwaka" in the name show scenes of festivity, not warrior scenes. But I suspect the "warriors" are actually Yoshiwara denizens staging a festival performance? Indeed, here is a design by Kiyonaga that appears to be on the exact same theme:
https://www.dh-jac.net/db/nishikie/BN03827967-1-22/default/
Unfortunately I don't find this design any more intelligible than the Utamaro one.
Finally, here is a sheet from a different Utamaro Niwaka polyptych featuring a boat:
https://www.dh-jac.net/db/nishikie/RV-00-1187/leiden/
This one doesn't seem to feature the same martial theme, but perhaps it is also related?
-A


---
---