Re: Ukiyo-e mystery
---
[ Follow Ups ] [ Post Followup ] [ Ukiyo-e Q & A ]
---
Posted by Alec W. (2.25.175.165) on October 05, 2022 at 13:23:18:
In Reply to: Ukiyo-e mystery posted by Lynne on October 05, 2022 at 00:19:59: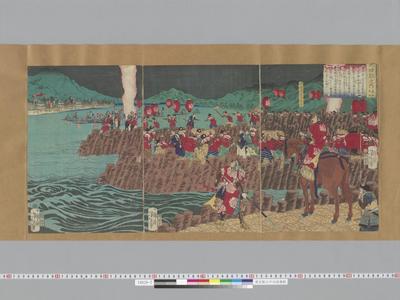 https://data.ukiyo-e.org/uploads/scaled/edf256da9e3694a9960660337e07f350.jpg
This is a design by Tsukioka Yoshitoshi, published in 1868.10 and entitled "Taikōki no uchi: Takamatsu mizuzeme" 太功記之内 高松水攻. At the surface, this is presented as an illustration of an episode in the life of the Taikō (Toyotomi Hideyoshi), here the siege of Takamatsu Castle in 1582. But, given the date of publication, this is surely also a thinly-veiled reference to events of the Boshin War, which was unfolding at that moment. Takamatsu domain fought on the side of the shōgun in 1868, but, shortly after their defeat at the Battle of Toba–Fushimi, the domain surrendered to pro-Imperial neighbor domains.
The publisher seal, reading "Kinseidō" 錦盛堂, belongs to Sanoya Tomigorō 佐野屋富五郎.
Links to other impressions:
https://archive.library.metro.tokyo.lg.jp/da/detail?tilcod=0000000003-00225389
https://www.dh-jac.net/db/nishikie/arcUP5723/portal/
-A


---
---