Re: Osaka Theater Print - Puzzle
---
[ Follow Ups ] [ Post Followup ] [ Ukiyo-e Q & A ]
---
Posted by Judy - kanji after s (146.115.211.189) on October 20, 2022 at 18:51:52:
In Reply to: Osaka Theater Print - Puzzle posted by Judy Hahn on October 16, 2022 at 18:49:51: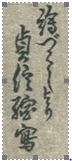 https://data.ukiyo-e.org/uploads/images/84f67f8ae888a7f5fb22652ecbd52095.jpg
what is the third kanji after sada and nobu? could you read the whole signature for me? thank you!


---
---