Re: mystery print
---
[ Follow Ups ] [ Post Followup ] [ Ukiyo-e Q & A ]
---
Posted by Alec W. (2.25.175.165) on October 24, 2022 at 20:09:40:
In Reply to: mystery print posted by Martha Easton on October 24, 2022 at 19:06:29: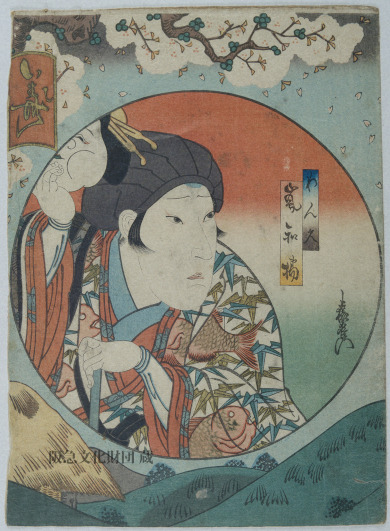 https://data.ukiyo-e.org/uploads/images/8e19cd399177c6021885017aecd3cfb1.jpg
It's a simplified version of this 1860 design by Osaka designer Enjaku 猿雀:
http://www.hankyu-bunka.or.jp/archive/?app=shiryo&mode=detail&data_id=202482
Depicted is actor Arashi Wakitsu (or Arashi Yorikitsu?) 嵐和橘 as "Wankyū" わん久 in the play "Chigusa no Midarezaki" 千種の乱咲.
Enjaku's prints, as with other Osaka artists, were often issued first as "deluxe" prints, and then later in lower-cost editions. So perhaps this print is just a "regular" edition of the Hankyu print. That said, I find it a little odd that all the text besides Enjaku's signature has been removed... it suggests to me that significant time had passed since the staging of the play, such that the publisher felt that references to the actor and play weren't selling points anymore. But that's just a supposition!
More on the artist here:
https://www.viewingjapaneseprints.net/texts/ukiyoe/enjaku.html
-A


---
---