ID of a print said to be by Yoshitoshi T
---
[ Follow Ups ] [ Post Followup ] [ Ukiyo-e Q & A ]
---
Posted by Bennett McCardle (99.239.176.221) on November 07, 2022 at 20:16:05: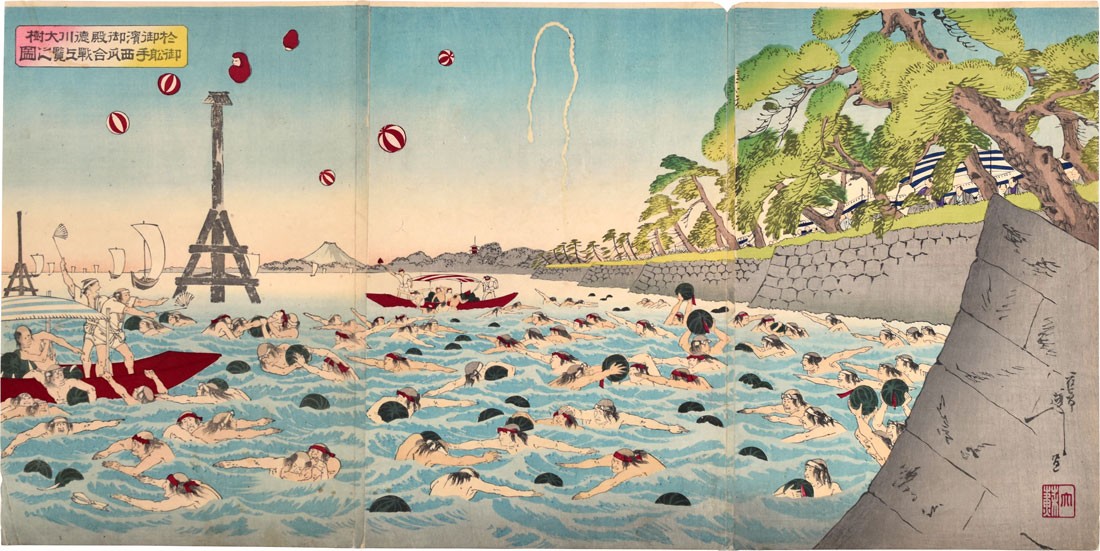 https://data.ukiyo-e.org/uploads/images/cd0ced3bc359545cbeec13d9dbfc5966.jpg
Hello! Does anyone have more information about this print, specifically the nature of the event shown?
No image searches turn it up. Captioned on thesite of origin as
titled "The Tokugawa Shogun Viewing a Watermelon Fight at Hama Palace,"
With date 1889.
It seems to show a variant of traditional watermelon-splitting game, suikawari (per Wikipedia, a summer game played on a beach or at festivals: blindfolded players take turns trying to split a melon with a stick, piņata style, hoping to win coins hidden in the fruit). This melon game seems to be a lot wetter.
My guess is that the shogun has arranged for teams of men to battle over the melons, which may be larded with valuables - a very special suikawari.
The shogun, if it is him, is keeping dry, sitting with his retinue well up behind the trees at right.
The two red boats are loaded with heaps of melons, maybe collected by 2 opposing teams with different headbands.
The flying striped balls and the daruma figures in the air might be festival balloons.
The date of the print is interesting. According to the histories of Hama Palace, the Tokugawa shoguns had handed it over to the new Meiji Emperor about 15 to 20 years earlier. Could it be a historic memory? Or is the caption given wrong?



---
---